Boot Camp and intensive trainings
Every year, there are two dan exams at seminars given by representatives of the central dojo of Japan. The club also organizes two intensive training camps (seminars) which are development tools reserved for serious karatekas who want to:
Deepen their knowledge in this martial art
Practice techniques intensively and acquire automatisms that make these techniques fluid and effective
Prepare their Dan exam
Stretch your physical limits and tap into your mental resources.
Exchange and communicate more personally between student members, black belts and sensei.
The winter camp normally takes place in the first weekend of February while the summer camp starts in the 2nd week of July.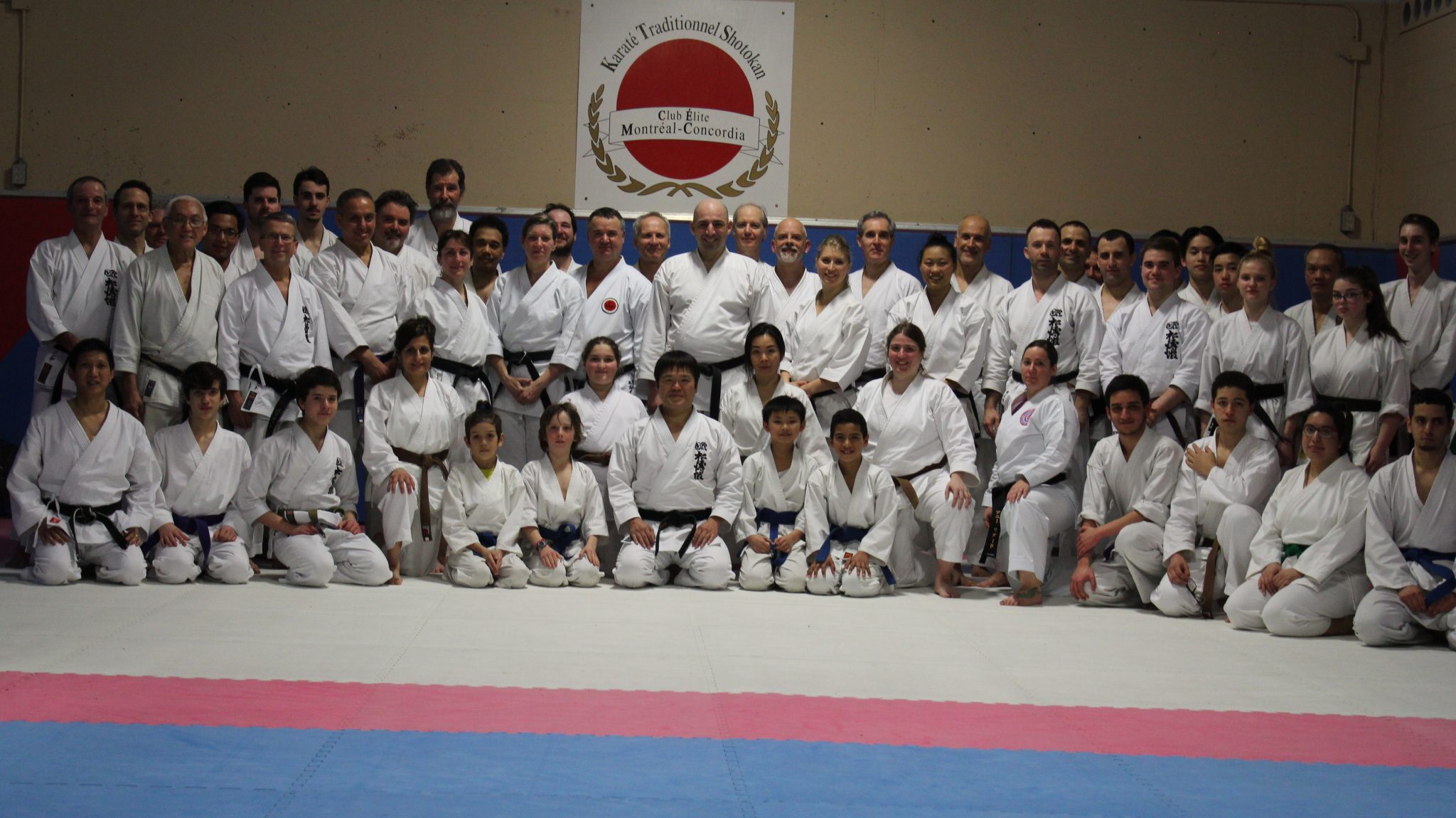 In addition to the rules that apply to the dojo (see club section), additional rules also apply when holding a seminar.
1. Respect the start time of the camp and be punctual.
2. Row alignment is an essential part of the course. Respect the order of the diagram presented below.
3. If you are late to camp, sit in the Seiza position at the Tatami entrance and wait for the instructor's permission. Once permission is granted, go to the first available position in the backmost row. You will join the position assigned to your rank during the installation and not before.
4. If you have to leave the camp instead, make sure you have the prior permission of the instructor.
5. If you can not sit in the "Seiza" position, stand upright and tilt in the backmost row.
6. As a rule, photography and video recording are not allowed during the seminar.
7. During the seminars, for the organizers, be sure to obtain prior permission from the instructors to take official photographs of the seminar.
8. The posting of videos and photos on social networks (YouTube, Facebook, Instagram, etc.) is prohibited.
9. During seminars, please refrain from asking autograph instructors and photos during the rest periods of the training. Instructors use this time to rest and plan the rest of the day.
10. It is possible to take photos or autographs with the instructor at the end of the seminar or during the periods provided for this purpose by the organizer
11. During seminars, move quickly when you go online, get together to listen to technical explanations, or go back to your place. The time of the seminar is precious. Get the most out of the instructors.
12. Remove your jewelry (rings, necklaces, bracelets, earrings, watch, etc.) before the start of the seminar as they will not be tolerated in class. 13. Clean up your place before leaving the seminar. You must leave your place cleaner than you had found before the seminar started. Collect your bottles, garbage, etc. before leaving.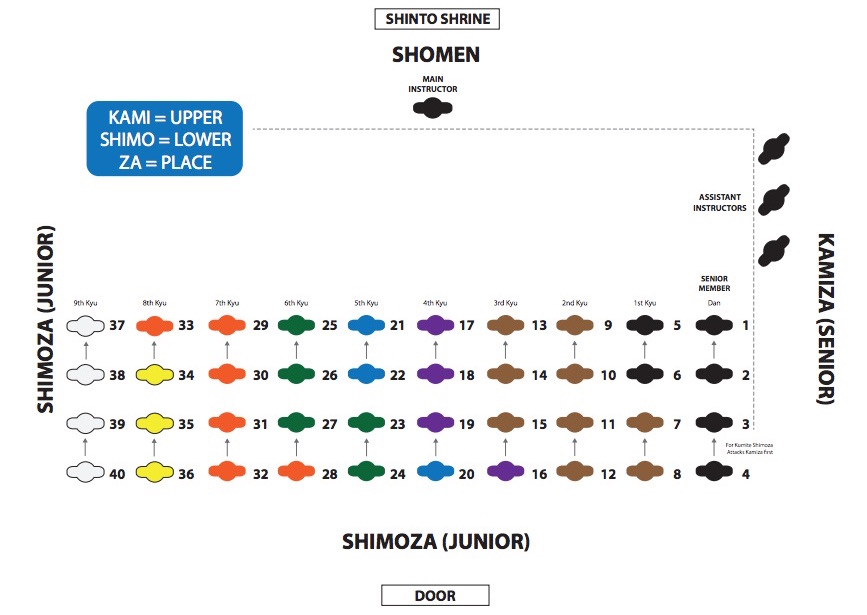 Sensei: The teacher, the one who was born before
Kamiza: Senior
Shimoza: Junior
Kami: The highest
Shimo: what is at the bottom, what is behind
Za: Spot
Seiza: Kneeling position, sitting on the heels. 
Sei/Quiet, sweet 
Za/Sitting position, place..
Rei: Greet
Ritsu-Rei: Hi standing
Za-Rei: Hi on your knees
Shomen: what is above, what is in front
Seiretsu: Go online
Seiza: Sit in a kneeling position
Mokusō: Silence meditation begins
Kaimoku: open your eyes
Mokusō yame: Stopping the meditation
Sensei-ni-rei: Greet the teacher (also, it depends on the title of the instructor, Sensei must be replaced by the appropriate title like Kancho, Soke or other)
Sensei-gata ni rei: Hi if several professors
Shōmen ni rei: Greet the ancestors, the predecessors and the founder (towards the place of honor)
Otagai-ni-rei: Collective greeting among dojo practitioners
Kiritsu. Hajimemasu: Get up, let's start
Kiritsu. Owarimasu: Get up, we're done
Dōjō-kun: recitation of the 5 rules of the dojo